We provide each client with individually designed programs which will assist them to meet their personal fitness goals and aspirations adding greatly to their quality of life by consistently practising fit and healthy lifestyle habits.

Our commitment to planning, evaluation and education will ensure a professional quality service whilst our passion and enthusiasm will provide continual inspiration, guidance and fulfilment.
PUBLIC GYM
Our Public Gym is located on Level 1 of our Multi-Level Facility. Our gym consists of a range of cardio equipment including Treadmills, Bikes, X-Trainers and Rowers.
We also have a variety of pin-loaded machines, squat rack, smith machine, dip bars, benches, dumbbells, barbells and floor space for stretching and core work. So whether you're a beginner with little gym experience or have spent your lifetime training in a gym, we will keep you ON TRACK!
Ongoing Fitness Assessments & Quality Gym Programs from our fully qualified, friendly staff will help you monitor and keep track of your progress, whilst continuing to reach every fitness goal!
Located on Level 1 is our fully equipped males/females which have shower facilities. Also available on Level 1 is our Massage Therapy consultation room.
Teen Gym
Teen Gym is a fully supervised gym program conducted by our friendly staff in a fun and safe environment. The program is designed to improve the health and well being of teenagers between the ages of 13-15 years. On Track strives to provide quality programming and goal setting for teens in a non intimidating environment.
The program runs 3.30pm – 5.30pm from Monday to Friday.
NOTE: Teen Gym have full weekend access to our facility and on school holidays have access in between 7.30am-5.30pm
At On Track Personal Fitness we strive to deliver quality professional guidance for your personal health and fitness goals. Personal training is a fantastic way to get you on track and achieve those goals. Our personal training staff are trained professionals who will work with you and tailor the perfect program for you.
To start with you will sit down with your trainer for an initial assessment which will include:
Structured planning to achieve your specific health & fitness goals
A look into your current diatery intake, exercise regime
Fitness testing & measurements to see your current fitness level and to be used for future comparison towards achieving your goals/targets
Set up regimes to complete outside of your personal training sessions e.g. (at home fitness session, runs, walks etc)
Another huge benefit about having a personal trainer is you wont do the same thing every session so this eradicates boredom from your exercise and gets you used to having alot of variety in your training schedule. Its very easy if your a gym member to wake up and think "ahh its too cold or ahh i wont go today" but having personal training appointments booked in helps to increase motivation so you are scheduled to exercise, and meet with someone who is there to achieve your goals/targets every step of the way.
Book in with one of our personal trainers today to kick start your fitness journey and get ON TRACK!!
Our Trainers
Craig
Managing Director / Australian Institute of Personal Trainers – Campus Director / Personal Trainer / Massage Therapist / Pilates Specialist
Bachelor of Applied Science (Human Movement)
Diploma of Business, Leadership & Management
Registered Workplace Assessor & Trainer (TAE)
Registered Personal Trainer since 1997 to all levels of health and fitness
Lecturer of Advanced Fitness (AIPT)
Lecturer & Mentor to VET/VCAL Development Programs
Level 1 Triathlon and Fitness Coach
AUSTSWIM Qualified
Registered Pilates/Cycle Instructor
Massage Therapy
Most people never achieve their  fitness goals, because they don't have the time or the motovation to  exercise regularly. With On Track your personal trainer provides you  with expert knowledge and coaching to make sure you reach your goals,  both physically and psychologically. 
---
Andrea – Personal Trainer / Gym Instructor / Boxing
Jordan – Personal Trainer / Rehabilitation

Rhys – Personal Trainer

Myotherapy
Myotherapy is the assessment and treatment of Myofascia and musculoskeletal pain originating from affected muscles, joints and nerves. Myotherapy is an integrated approach towards acute and chronic pain complaints, with the aim of discovering the cause of the problem biomechanically, not just treating the symptoms. The goal of treatment is to first, reduce the presenting pain, then to restore function/activity.
Sports Massage
Sports Massage is a specialized form of massage which is typically used before, during, and after athletic events of highly active people. The purpose of the massage is to prepare the person for peak performance, to relieve fatigue, flush lactic acid, reduce swelling, soothe muscle tension, promote flexibility and prevent injuries.
Relaxation Massage
Relaxation massage uses five basic massage movements to increase circulation and remove toxins from the muscles. Always working towards the heart, the massage therapist incorporates these techniques into a flowing massage session that leaves the patient physically and emotionally relaxed.
Cupping Therapy
There are two kinds of cupping techniques. The first is termed as the massage cupping wherein the glass cups are moved in a circular motion to provide relief to sore muscles. The second technique is the stationery cupping wherein the cups are placed on a specific pressure point and not removed until the muscle is released.
Remedial Massage
Remedial Massage is a way of repairing muscles and tendons damaged through over use, trauma and bad posture. Remedial massage involves a number of applied techniques involving, Assessment to see if the problem is biomechanical, the use of deep tissue, Friction and x-fiber massage for the break up of scar tissue. Ice massage, trigger points, Myotherapy and longitudinal strokes on shortened and tight muscles are then used to allow proper function and restore muscle strength and flexibility.
Deep tissue massage
Deep tissue massage is a type of massage aimed at the deeper tissue structures of the muscle and fascia, also called connective tissue. Deep tissue massage uses many of the same movements and techniques as relaxation, but the pressure will generally be more intense and can be followed by ice massage. It is also a more focused type of massage, as the therapist works to release chronic muscle tension or knots (also known as "adhesions.")
Maintenance Massage
Regular training will put high levels of stress on your muscles. Niggling aches and pains experienced with increased training could soon become more serious injuries preventing training. Regular maintenance massage can eliminate these aches and pains allowing training to continue. Regular maintenance massage can improve your performance by preventing injury, aiding recovery between training sessions and keeping muscles fibers aligned and working smoothly.
Injury assessment, treatment and management
This is the assessment of an injury or issue with the musculoskeletal system which involves a series of range of motion and special testing's to determine what and where the problem is originating from. With this the massage therapist can use a technique suitable to the presenting problem. Management of this issue can consist of a series of home stretches, Massage therapy, Building up of opposite or surrounding muscle groups, or a referral.
Workplace massage
Massage in the workplace is a great solution for dealing with stress in the workplace or away of saying thank you. A massage session includes a relaxing style massage with the client fully clothed ether seated in a massage chair or even on a table. We also provide an educational component to the session teaching your staff about the importance of stretching, exercise and proper biomechanics.
Group Fitness Classes are a fun, popular and social way to exercise suitable for all fitness levels.
Lead by our trained fitness professionals, On Track Fitness offers a RUNNING GROUP Catering for all fitness levels & abilities (Wednesday morning 6am)
INDOOR GROUP FITNESS
All classes are subject to change.
Hot classes are subject to weather during the Summer Period
Updated January 2021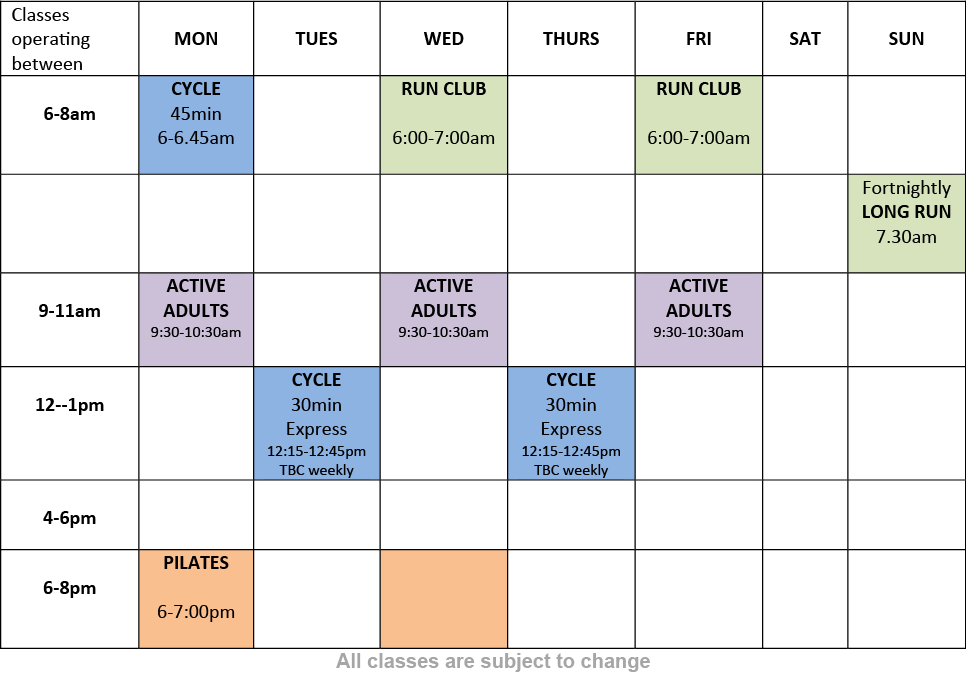 ACTIVE ADULTS
A 40's + class to enhance fitness and wellbeing. The low impact and weight bearing exercises develop stronger bones and muscles and improve balance.  
---
BOXING
Boxing is one of the most effective cardio and strength endurance workouts you could ever imagine. This fun class is sure to get results – fast. Maximum 20 people
---
PILATES
A powerful and effective core based workout to build both strength and flexibility. Conditioning the body, sculpting  the abs and changing the shape of the body
---
CYCLE
Burn maximum calories as you work your way through hills, flats and time trials. Fantastic for all levels of fitness.
---
FT-50
FT-50 is a combination of High-Intensity Interval Training (HIIT), Circuit Training and Functional Training. The fusion of interval, cardiovascular and strength training is one of the most effective workout methods for burning fat and building lean muscle in 50 minutes
CERT IV in FITNESS SIS40215
Unfortunately all student course allocations are full for 2022 
About a year ago I decided to look into Personal Training. I had a bit of a look around and decided to enquire at On Track Personal Fitness. I left my name and number at the reception desk and within an hour I recieved a call from a guy called Ash. I was very nervous about starting Personal Training sessions as I had become very unfit over the years from lack of exercise. After speaking with Ash i organised a time to head in for an initial assesment and plan my sessions. I always found gyms and people who work in gyms very intimidating as it reminded me of the sports freaks when i was back in school. I started out with doing one session per week and quickly started to notice the results. I then decided to bump it up to two sessions a week. Nearly 12 months on from going to Personal Training sessions i joined the public gym at On Track and even attend some group fitness classes. I think that if all of the staff at On Track Personal Fitness were not so friendly and welcoming and non judgemental I would not have decided to start going to the gym every day. I am there every day of the week and I love every minute of it. I have noticed not only am i feeling better about myself but I am also gaining a lot more confidence and I owe it all to the staff at On Track. On Track Personal Fitness has become my home away from home and I actually find myself working social outings around my gym/personal training sessions so i avoid missing a day. A huge thanks to all of the staff at On Track Personal Fitness. You have changed my life!!!!
Ben Tovey
From the first day I walked into On Track Personal Fitness I felt instantly welcomed and part of a close-knit community. Before I knew it, I was on first name basis with the staff and would be greeted with huge smiles, encouragement and enthusiasm everytime I set foot in the building. Everything from the small touches, like fresh towels and "above and beyond" efforts of the personal trainers I felt like it was impossible not to reach my fitness goals. After 7 weeks of hard work, encouragement, fitness assessments, nutritional guidance and support I have never felt this energised, healthy and motivated! Im bowled over by the changes that have taken place over the last two months and i owe a huge part of that to Craig, Chris, Ash and all the team at On Track- thanks guys!
Hannah Porteous
At the start of the year I knew that i need to make some big changes with regards to my fitness and weight. I was a little apprehensive before starting at the gym because I knew I had a lot of work to do. Instantly that nervous feeling left me because of the warm nature of the whole On Track team. Immediatey, I was given an abundance of nutritional information and goal orientated workouts which were interesting and challenging enough so that I could constantly improve and make it impossible not to achieve my goals. After the first week I felt that I had made some serious improvements and that I was dedicated in putting in the work due to the work of a team that had been there from the very start. I dont think that I could have ever done as well as I have without the constant support and friendly faces of the On Track Team. It got to a point where I felt like I was visiting a family everytime i set foot in the door, coming from the UK I felt this to be very comforting. I would definitly not hesitate in choosing On Track over a 24 hour gym because the personal touch is what kept ne going back up to 4, sometimes 5 times a week. A special thanks goes to Craig, Ash, Chris for their constant support and devoted nature in helping me attain my goals. Unfortunately I live in England so I had to leave On Track but the information and experiences they have provided me with has kept me "On Track" and i will continue to keep up the hard work!!
Morgan Richards
See our membership options & pricing.